Meet Dr. Sandra Kwak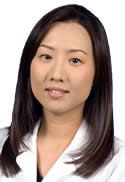 Dr. Sandra Kwak was born and raised in Southern California.  She attended UCLA for undergraduate studies majoring in Biology.  Then, she received a Masters degree in Medical Sciences from Boston University.  She continued her studies in the East Coast and attended Albany Medical College for medical school.  Dr. Kwak completed her internship and residency at Kaiser Permanente in Los Angeles (Sunset).  Her endocrine fellowship brought her to the Orange County area (UC Irvine).  She has practiced endocrinology in the Newport Beach area since 2008 and she is an affiliate staff member at Hoag Hospital.
Dr. Kwak has opened a solo practice medical office in the Hoag Health Center in Newport Beach.  She is Board Certified in Endocrinology and specializes in thyroid disorders (thyroid nodules, hypothyroidism, hyperthyroidism, etc.). Dr. Kwak has recently been appointed Director of the Hoag Thyroid Program at Hoag Hospital.